This is the original "For Sale"advert, but it'll do nicely as an introduction to this beautiful, custom-built barge.
Whisper was sold in 2017
The vessel
Although this barge-yacht gives the expanded space that 17 metres can offer, it is not of "massive" appearance. It is low and lightly-built, in the manner of modern cruisers, and looks smaller than it actually is. It is usually easily accepted in ports that specify a maximum length of under 15 metres, - a valuable consideration when looking at larger vessels!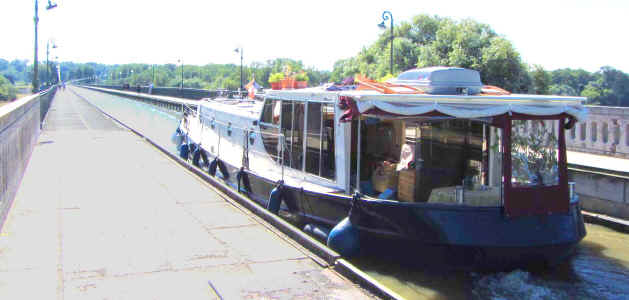 This boat is as convenient as a small, modern city apartment. There is style, quality and comfort here in a slinky, low-profile cruising barge.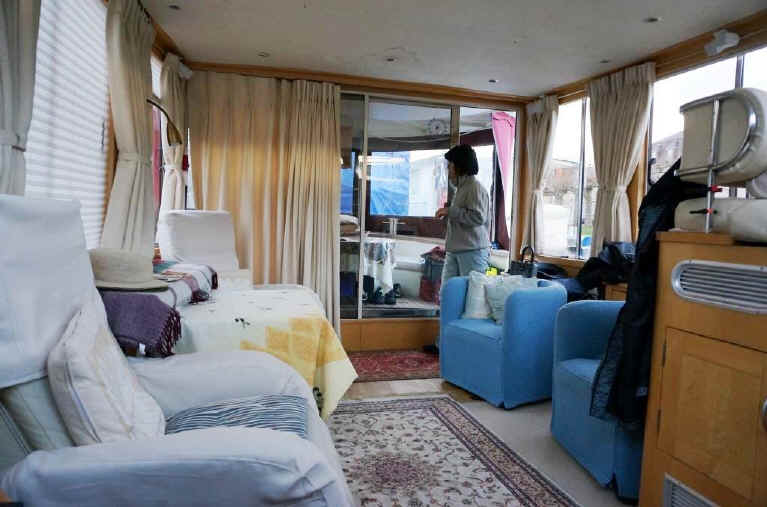 The vessel was craned-out at the end of the 2015 season
She had new bottom paint, new anodes, a new, (second), cooling water intake, (two filters / switch-over system in case of blockage), new topside paint, new non-slip deck paint and several interior improvements at the same time.
The barge is a custom one-off design by Nick Branson, built by Oxford cruisers. Length is 16.95 Metres Beam is 4.35 metres. Draft is 1.2 metres. Although a fixed wheelhouse, air draft, at 2.20 metres, is a few inches less than that of a conventional replica-barge when the wheelhouse is down! It was designed to fit under the lowest bridge on the Thames. It fits all European waterways, including the Nivernais and similar smaller, non-standard gauge canals.